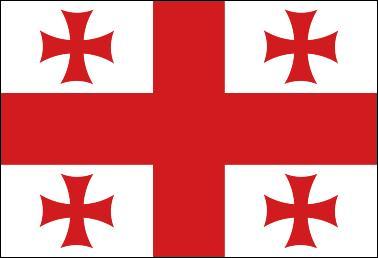 Traversée de la Georgie
Le trajet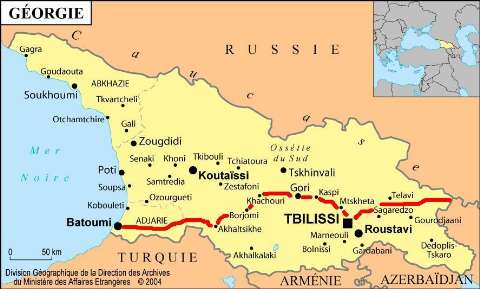 La Georgie est divise en 9 regions appelees Mkhare , de deux Republiques autonome et d'une ville.
On est rentres par Batumi (Republique autonome d' Adjarie), deuxieme ville du pays puis avons decide de passer par la route du sud (les montagnes!!) par la region de Samtskhe-Djavakheti ou nous attend notre premier pass pour rejoindre Akhaltsikhe. Nous sommes ensuite passés a Borjomi, Gori (ville de naissance de Stalin)dans la region de Shida-Kartli pour enfin arriver dans la capitale Tbilisi.
Pour atteindre l'Azerbaijan, on a essaye de passer par les montagnes au sud (region de Mtskheta-Mtianeti) mais bon j'ai casse mon derailleur et donc retour a la case depart…. Tbilisi!
On repartira donc par la route qui passe par Sighnaghi puis Lagodehki (region de Kakhetie)pour passer en Azerbaijan.

Georgia is divided in 9 regions called Mkhare, 2 independent Republic and one city.
We entered trough Batumi (Independent Republic of Adjarie) second biggest city in the country. Then we decide to take the south road (mountain!!) trough the Samtskhe-Djavakheti region where our first pass was waiting for us in order to reach Akhaltsikhe. Afterwards we passed by Borjomi, Gori (the Stalin place of birth) in the Shida-Kartli region to finally reach the capital: Tbilisi.
To reach Azerbaijan, we tryied to cycling trough the mountain (Mtskheta-Mtianeti region) but i broke my rear derailleur so go back to the starting points.... Tbilisi!
We finally took the road passing by Sighnaghi and Lagodekhi (Kakhetie region) to reach Azerbaijan
Le mental
Contents d'avoir trouve une tribu de cyclorando pour partager un bout de l'aventure Georgienne! Le fait de passer un nouveau pays nous remet sur les routes de l'aventure est ca fait du bien. Par contre après avoir fait notre possible pour apprendre le Turc et pouvoir partager avec les gens ca a ete dur d'avoir tout a refaire!! Mais en Georgie certaines personnes parlaient Turc et puis ben on a fait ce qu'on a pu avec le Georgien!
So happy to found a cycling tribe like that to share this piece of Georgian adventure! The fact that we reached a new country putted us on the road of adventure again and what a good feeling. On the other side, after we did our best to learn Turkish, it was pretty hard to redo everything! But in Georgie some people are speaking in Turkish and we manage the must that we could with our small Georgian!
Le pays

C'est un superbe pays tres vert. Pour les amoureux de montagnes il y a de quoi faire la bas!!
Les gens sont tres aceuillants et nous disent etre ravis de voir leur pays ouvrir leurs portes aux touristes. Bon ils nous le font bien comprendre en nous rincant quantitativement le gosier a coup de ChaCha (goutte locale), de vin maison ou de cognac!
Leur hospitalite est tres differente de celle des Turcs. D'abord ils ne parlent jamais d'argent, ce qui est plutot agreable (On a certainement pas tout compris non plus!!). Et puis ils savent garder leurs distances et ne pas nous assaillir de questions. Au premier abord il n'ont pas vraiment l'air d'etre content de voir des touristes mais un petit gamardjoba (bonjour) transforme leur visage courousse en un grand sourire illumine! On a vraiment aime leur compagnie simple et gentille…
L'alcool… c'est vraiment trop, ca commence au reveil et ca ne s'arrette pas. Le bon point c'est qu'apres quelques bonnes rincees, j'ai appris a dire non! Franchement ca va trop fort et trop vite!! Pa exemple meme les verres de vin se boivent cul-sec… Pour apprecier, on repassera! La majorite des hommes que l'on a croise ne buvaient pas que de la tisane et ca se voyait.
Quelques lignes sur le vin Georgien quand meme qui est assez repute. Le vin maison est ce qu'il est… Il y a de bons rouges et les blancs sont plutot roses et ne nous ont pas vraiment convaincu car tres piquant. Par contre les rouges de bonnes caves semi-sucre sont bons. Tres differents de nos rouges.
Ils ont un nombre de cepages hallucinant. La vinification se fait en terre dans d'enormes jarres en terre cuite. Dans l'est du pays ils possedent un double tunnel de stockage sous-terrain qui fait partie des plus grands au monde avec une longueur de 8km!
On a trouve leur style de vie tres autonome au niveau consommation. Beaucoup de produits sont fait maison et ca fait plaisir a voir! Beaucoup de conservation en bocaux de tous types, oeufs et produits laitiers directement en provenance du producteur. Alcool maison mise a part la biere. Tres bon pain!
La situation geopolitique est un peu conflictuelle! Il y a deux territoires interdits en Georgie: L'ossetie du sud et L'abkhasie. Il y a 20 ans de ca, les russes sont venus prendre ces territoires ce qui a cree une premiere vague d'expulsion des Georgiens hors de ces territoires. Apparement reconquis par la suite, il y a 5 ans de ca, Poutine a remis le couvert et a revire tout le monde dans des camps de refugies avoisinants ces zones. Guerre éclair de 4 jours!! Un peu complexe a comprendre comme la plupart des enjeux politiques internationaux…
On ne pense pas que le pays soit tres riche en soi. Meme au centre ville de la capitale on trouve des ruelles en terre battue. Les petits villages sont plutot charmants mais tres pauvres.
L'apprentissage de la langue est vraiment galere car c'est un petit pays vite traverse donc pas le temps. On a fait tout ce qu'on pouvait mais on reste sur notre fin quant aux echanges! L'alplhabet est vraiment tres dur aussi, il fait parti des 14 alphabets presents dans le monde…

Such a green country and for the mountain lover you'll enjoy a lot over there! People are very welcoming and told us that they are very happy to see the door of the country open for the foreigners (Which was not the case during the soviet time i supposed) They made us understand that by made us drinked a lot of everything (Chacha, wine, cognac...).
Their hospitality is very different from the Turkish one. First of all they rarely speak about money, which was great (ok, maybe we didn't understood everything as well!) They know how to keep a certain distance and they didn't always asking so many question. When you see them first you could think they are rough but if you just say "Gamarjoba" (bonjour) Them face will turn into a big and large smile. We really loved them company: simple and nice.
Alcohol: It was really too much for us! Starting on the morning till late on the evening. The positive point it's like after few hangover i learned to say just NO!! Seriously too fast and too much!! For example they never appriciate the wine, they drink it straight! Hard to find someone a man sober.
Some line about the famous Georgian wine. The homemade one is what it this. We liked the red one but the white one (kind of pink) we didn't like it so much cause spicy. The good red, semi-sweet, we liked it a lot. Very different from our red one. They have a huge amount of cepage. The vinification is done in big underground terracota jar. In the east they got a huge underground storage double tunnel which is 8 km long, one of the longest in the world!
We found their way of life very independent, about consumption. A lot of products are home made and it's a pleasure to see. A lot of jars preservation of all type, eggs and milk products directly from the farm. Alcohol, except for beer, is homemade as well. The geopolitical situation is a bit tricky. They are two forbidden area in Georgia: The Abkhasia and the south osetia. 20 years ago the Russian came and it created a first wave of expulsion. 5 years ago Poutine did it again and put those people in some refugees camp around those area. A 4 days war!! A bit hard to understand as most of the international geopolitical issues.
We don't think that the country is so rich itself. Even in the Tbilisi center you can find some non-paved road. The small village are pretty charming but so poor! The language learning was really hard cause the country is quite small, so no time enough! We did what we could but still not happy cause it was not enough!! The aplhabet is amazlingly hard, it's one of 14 alphabet in the world.

Les rencontres
Pete et Alice
On se rencontre a l'hotel Globus de Batumi. Pete et Alice font leur lune de miel a velo autour du monde!
Ils sont anglais, le courant passe super bien, on agrandit donc la tribu et rejoignons Tbilisi a 6 (Manu, Jonathan, Alice, Pete et nous). Ces 2 la parlent toujours de quoi faire a manger…pire que des francais!

We met them in the Globus hostel in Batumi. Pete and Alice are in honeymoon (maybe the longest in the world!!) by bicycle around the world! They are English, the feeling was quickly nice with them, so we enlarged the tribe and reached Tbilisi at 6 (Manu, Pete, Jonhatan, Alice and us). Those 2 are always talking about food! Worth than French people, could you imagine that!

Christian
On se trouve sur la route puis nous rejoignons a l'hotel de Batumi. Christian est un grand alpiniste, il a déjà gravit les 3 plus hauts sommets de chaque continents et malgre tout garde la tete froide. Un home simple aux recits incroyablement interessants.

We met him on the side of the road and then again in Batumi. Christian is a famous mountaineer, he climbed the 3 higgest summit in each continents but still not boasting at all!! A simple man with incredible stories.

Notre premier hote
A la recherche d'un spot pour notre campement de tribu, on tombe sur cet home qui nous ouvre les portes de son jardin. Le soir venu il vient nous offrir la traditionnelle chacha de maniere assez soft…de quoi nous chauffer pour le reste de l'aventure en Georgie. Il parle le turc, on a donc l'occasion d'echanger pas mal. Un home tres gentil.

While we was looking for a spot to camp for our tribe, we met this guys who directly open to us the door of his garden. During the evening he came and offer us some chacha but in a soft way... which was nice... like a start to prepare our liver for our Georgian adventure. He was speaking a bit in Turkish which was cool to exchange. A really kind person.

Le maire du village a la petite eglise et son ami
Le maire du village vient a notre rencontre alors que l'on est en train d'installer notre campement. "dans une heure on boit un coup ensemble?" nous dit il. On ne refuse pas bien sur…on prendra la pire cuite du voyage en meme pas 2 heures (5L de vin, 75cl de chacha)

The mayor of the village came to us while we was setting our camp."In one hour i come back and we gonna drink Ok?" he said. We didn't say no of course... We get pissed in not even 2 hours (5l of wine and 75cl of chacha!!)

La tenanciere d'un petit resto
Elle emmene Alice dans ses cuisines pour lui montrer ce qu'elle a prepare et savoir si on veut manger au chaud, il fait bien frisque dehors et on appreciera beaucoup ce petit moment!

She bringed Alice in the Kitchen and asked her if we want to eat what she prepared, it was frozen outside so we enjoyed a lot this small time!

Le maire de Khulo
Il nous incite a continuer notre route jusqu'au pass en nous diant qu'il n'y a plus qu'une dizaine de bornes et qu'il y a un hotel au sommet ou on pourra passer la nuit a ses frais…on pensait s'arreter ici pour la nuit mais on ne peut pas refuser sa proposition, un petit effort de plus et on passera une nuit au chaud! …l'aventure devient memorable quand les 10km se transforment en 20, que la nuit tombe et qu'on marche pendant plus de 2h avant qu'un homme vienne nous rappatrier en camionnette jusqu'au fameux hotel!

He pushed us to continue till the pass. He said that there is only 10 km and he booked an hotel for us! We was thinking to stop when we met him but we decided to push a bit to sleep in a warm place. The adventure became memorable when the 10km turn into 20, the night came, and we was walking for two hours in a deep fog untill one guys came and bring us to the top to reach the hotel!!

Les 2 gamins du village troglodytique
Ils debarquent comme des fleurs alors que Matt fait sa maintenance velo. Le pauvre ne peut plus travailler en paix, vas y que je fais tourner les pedales, que j'appuie sur le klaxon a outrance, que je fouille dans les outils, dans la sacoche de guidon…ils retournent tout, de vrais petites tornades!

They came like this, while Matt was fixing the bikes. Poor Matt no peace anymore for him, they touched every tool, explored the bag, use the horn... They did a mess... real tornado!

Litka, Benji, Maria, Cecilia et le reste de l'equipe du Why Not Hostel
Hostel ou on trouve refuge a Tbilisi. Une equipe toute devouee a nous render service et a partager de leur temps et de leur culture avec nous. On a l'occasion de faire nos "instants cuisine" avec Cecilia puis Benji et Maria, encore de beaux moments partages.

Hostel where we stayied in Tbilisi. A great staff ready to help and share everything with us. We got the opportunity to had our "cooking session" with Cecilia, Benji and Maria, again nice sharing time.

Klaus
Il nous acceuille chez lui après avoir acceuilli Pete et Alice. Il est allemand et travaille a Tbilisi en tant qu'ingenieur en traitement de l'eau (un nouveau copain pour Mathilde!). Il tente aussi d'organiser un tri des dechets sur la commune de Tbilisi. C'est un bon vivant, on rigole beaucoup ensemble. On se sent chez lui comme a la maison.

He hosted us in his place after Pete and Alice. He is German and work in Tbilisi as a water treatment ingenior (new friend for Mathilde!!). He try to organize something about the waste sorting in Tbilisi. It's a very funny guys and we laughed a lot with him. We felt at home in his place

Giorgi
Il nous acceuille chez lui avec la traditionnelle chacha, on passera une soiree de folie, Matthieu finit au jardin a tirer des coups de carabine a 2h du matin. On dormira dans son lit.
Il nous reveille a 9h avec la bouteille de cognac en main…journee difficile pour le corps mais memorable! Serrer la pince a un gars de la mafia georgienne en slip, ca c'est fait!

He welcomed us with the traditional Chacha, we've got an amazing evening with him. Matthieu ended the night on a gun shooting session at 2 o'cloock on the morning. We slept in his bed. He awaked us at 9h with a bootle of cognac... Hard day for the body but unforgotable! Go to say hello to a Georgian mafia members and just wearing a underpants:Done!!


Auto et ses amis
Ce matin la,dimanche de Paques pour les orthodoxes, meme pas un coup de pedale que le derailleur de Matt nous lache…Auto et sa bande arrivent en 4x4 pour siroter des bieres dans la foret. Ils nous depanneront bien en nous ramenant a Tbilisi pour reparer ca!

This morning was Pascal for the Orthodox, not even one meter and Matt broke his derailleur... Auto and his friend came with a 4x4 to drink some beer in the forest. They hopefully bringed us back to Tbilisi to solve our problem!

Sam
De retour a Tbilisi, on retourne donc au "why not Hostel". Sam vient tout juste d'arriver lui aussi, il voyage a velo au gres du vent et de ses envies. Le courant passe a merveille, on passé notre temps a manger des glaces, son peche mignon et a rever de nos prochaines destinations respective.

Back to Tbilisi we stayed in the "why not hostel" again. Sam just came as well and he is travelling by bike too. We directly have a good feeling toghether. We spend our times eating ice cream and dreaming about our next destinations.

Fatma
Originaire d'Afghanistan, ayant passé son adolescence en Hollande et tout juste revenue a Kaboul pour le travail, Fatma est une jeune femme qui nous touche beaucoup par ses recits et nous permet de mieux comprendre la culture afghane.

Originary from Afghanistan, she spend her teenage time in Holland and she just came back in Kaboul for working. Fatma is a girl who touch us a lot by her stories and because she shared a lot about the Afghan culture.

Zaza
On le croise dans la rue le Dimanche de Paques Orthodoxe. Il vient a notre rencontres avec son grand sourire et sa gestuelle genereuse a la maniere d'un Italien. Il est issu de la premiere vague d'immigration forcee (Il y a 20 ans de ca) du peuple d'Abkhazie, region a l'extreme ouest de la Georgie (la ou les Russes foutent la pagaille!!). Il nous exprime sa nostalgie de sa vie dans sa region natal. Maintenant il vit avec sa mere dans la capitale et a l'air d'etre une personne tres cultivee. Il parle noamment tres bien le Francais. Il n'a personne pour feter ce Dimanche de Paques et il attendait quelqu'un au hasard pour lui offrir ces fameux heureux colores en rouge... Et bien ca seras nous. Rencontre qui nous touche beaucoup!!
We met him in the street during Eastern. He came to us with his large smile and his generous gestures like an Italian man. He came in Tbilissi after the first wave of mandatory immigration (20 years ago) of the Abkhazian region, which is in the extrem west of the country (where Russian are doing a mess!!). He speaked about his nostalgia of his birthplace. Now he is living with his mother. He seem's to be a very well cultured person. He speak a very good french. He didn't have anybody to celebrate with so he was waiting on the steet to meet someone in order to give his eastern egg (painted in red like the tradition want). Finally it was us. A meeting that affect us
Etienne
Un roubaisien a Tbilisi, comme le monde est petit! Un bon ch'ti mi bien sympathique venu decouvrir ce beau pays qu'est la Georgie!

A guy from Roubaix in Tbilisi, world is small!! A good Ch'ti very friendly, came here to discover this wonderfull country!

La famille de Badiauri
Koba, le papa vient nous chercher dans les vignes ou nous etions en train de poser campement et nous conseille de venir passer la nuit chez lui en nous mimant la presence de loups dans les parages. On s'execute et decouvrons une famille adorable. Koba et Nana vivent avec leurs 2 enfants Giorgi, militaire et Tiko, lyceenne. Ils nous acceuillent tres genereusement, la tante, Lia, et sa fille, Ia, nous rejoignent pour une soiree traditionnelle, Koba tient le role du Tamada et applique la tradition a merveille en portant un long toast avant chaque verre de vin (fait par lui meme bien sur!) Nana nous cuicine de delicieux Khinkali et nous fait gouter toutes les delicieuses verrines qu'elle a l'habitude de preparer. On dormira bien au chaud dans de grand lits bien loin du grand mechant loup!

Koba, the father came to picked us into the vineyards where we was starting to set up the camp. He adviced us to spend the night in his home because of the wolf around. So we moved and we discovered an adorable family. Koba and Nana have two child, Giorgi, an army men and Tiko a schoolgirl. They welcomed us very generously, the aunt, Lia and her daugther Ia joined us for a traditional dinner. Koba did the Tamada (person in charge of the toast) and did it very well. Nana cooked some delicious Khinkali and made us test her delicious preparation. We slept very well far away from the big bad wolf!

Elvira et Tamas
On fait marche arriere pour admirer l'enorme cochon qui se pavanne dans leur jardin et Elvira et Tamas nous invitent a planter notre tente dans leur champs. Quelques minutes plus tard ils nous y rejoignent avec une brouette chargee de victuailles! Elvira est azeri et nous mets aux couleurs pour notre arrive dans le pays le lendemain. On passe une bonne soiree a la Georgienne…le lendemain, surprise! Il y a une source naturelle d'eau chaudea 100metres de la! Un pur Bonheur!

We turn around to admire a huge pork when Elvira and Tamas invited us to set up our tent in their garden. Later they join us with a wheelbarrow full of victuals! Elvira is Azeri and prepared us for our new country. We had a great Georgian evening and on the morning we got a surprise! A hot spring just 100 meter away from us! Pure hapiness
Tourisme
La ville de Batumi ou tout est tres contraste. D'enormes batiment de type sovietiques plutot en bon etat mais vides. Des barres d'immeubles plutot moches ou les gens sont entasses les uns sur les autres. Des architectures completement fantasques sorties d'ailleurs. C'est une ville qui doit se developper tres vite et qui en a les moyens. Le petit quartier dans lequels on residait est quant a lui, tres typique et plein de charme a l'hostel Globus, bon marche et plutot sympa mais demande pour les chamber a 20 lari, il ne vous les propose pas d'office!!
La capitale Tbilisi. Une des plus belle ville a travers lesquels nous avons transites. Une vieille ville super charmante avec toutes ces boiseries et balcons en bois. Des gens super agreables. Des arbres de partout!! Petit bemol, et pas des moindres a velo, le traffic est completement dingue par endroit. Ils ont tous, sans exception, recu leurs permis dans un paquet de lessive! Ils roulent vite et mal…
La route du sud via les montagnes. Ahhh les montagnes, les vaches et le ChaCha!! Magnifiques, que dire d'autre. Ces petits villages perduent dans les vallee et ces gens si accueillant!!
Kazbek. On y est pas alle mais tous le monde nous a dis que c'etait fantastique. La plus haute montagne du pays!
Les caves a vin. Passage oblige!
La tradition du Tamada. A vivre au moins une fois. Bon après il faut une semaine pour s'en remettre
Gori, ville de Staline. N'a pas grand chose a offrir si ce n'est le muse de Staline. Apparement on y fait de la propagande pro-communisme! On peu pas vous dire on y est pas alle.
Borjomi. Ville tristounette mais qui a un parc national aux alentours a couper le souffle! Son eau de source est tres repute aussi.
The city of Batumi where everything is really in contrast. Huge soviet building in a good shape but empty. Some ugly building where the people live one on each other. Some architecture totally whimsical. It's a city which seems to grow very fast. The part where we stayed was very charming. We stayed in the Globus Hostel, cheap but you have to ask for the 20 lari room, they don't propose it directly!
Tbilisi, the capital. One of the most beautiful city we passed trough during this journey. A lod city absolutely lovely with all of this woodwork and wood balcony. People are very pleasant. Very green city. But there is a fly on the ointment, and not a small one when you are travelling by bike, the traffic is completly mad. It seems that they all get them driving licens as a present in a wash pack! They are driving fast and in such a bad way...
The south road trough the mountain. Mountain, cows and Chacha! Wonderfull.... what can i say. Those small villages, lost in those deep valley with amazing people, so welcoming!
Kazbek, the highest summit im Georgia. We didn't went there but everyone says that it's awsome
Wine place...it's a must!
The Tamada tradition. To do once at least. Ok you'll need one week after to be in a good shape!
Gori, the birth place of Stalin, nothing to do there but maybe the Stalin museum. Apparently the staff of the museum is making kind of pro-communist propaganda! We can't tell you we didn't went there.
Borjomi. City a bit boring but there is an amazing national parc around, very famous! The mineral water there is famous as well.
En Georgie tu trouveras
Des Ladas de tous les ages et de tous le modeles
Des bon buveurs
Du tres bon pain, bon fromage et bon vin rouge semi-sucre
Des ours et des loups
Some Lada, all ages and all mode
Good drinker
Very good cheese, bread and semi-sweet red wine
Some bears and wolfs
A velo
Les gens roulent mal c'est clair. Ici on ne passe pas le permis, on l'achete! Tbilisi en est un tres bon exemple!
La seul piste cyclable rencontree fut au bord de la mer noire a Batumi. On y voit meme des dauphins assez pres des cotes! Tout plein…
La route du sud pour rejoinder Akhaltsikhe est magnifique. Seulement attention, pour atteindre le pass et pour redescendre il y a une bonne cinquantaine de kilometre de piste!!
Pour tous ceux qui pense passer a Tbilisi pour refaire une beaute mecanique a leur montures, trouver des pieces de rechange ou reparer une casse… c'est pas le bon endroit!! Tres peu de magasin specialise, voir aucun, pas de materiel de bonne qualite… Ou alors vous pouvez toujours passez commande dans un des rares magasins mais la encore…. Patiente!
Seriously, generally people don't know how to drive. Here there is no examination to get the driving license, you just buy it!! Tbilisi itself is a good example
The only cycling path we saw was in Batumi, on the Black see coast. You can even see dolphin from it, they are really close!
The south road to reach Akhaltsikhe is amazing. But be aware that to reach the pass and going down you'll get around 50 km of non-paved road! It worth it!
For all of you who want to get good spare part or mechanic reparations in Tbilisi... it's not the right place!! Just few shop, let's say almost none where you can find good stuff... Or you can order some pieces in those shop but again... be patient!
Stats
25 jours dont 6 jours de repos
656,61 km soit 34,55km/jour
1 euro = 2,17 Laris
Budget alimentaire: 250,7 laris (115,25 euros) soit 10 laris(4,61 euros)/jours
Budget velo: 361 laris (166,42 euros)
Budget transport: 9 laris (4,15 euros)
25 days, 6 off
656,61kms so 34,55kms/day
For food 250,7 Laris (115,25 euros) so 10 Laris(4,61 euros)/day
For the bike 361 Laris (166,42 euros)
For transportation 9 Laris (4,15 euros)