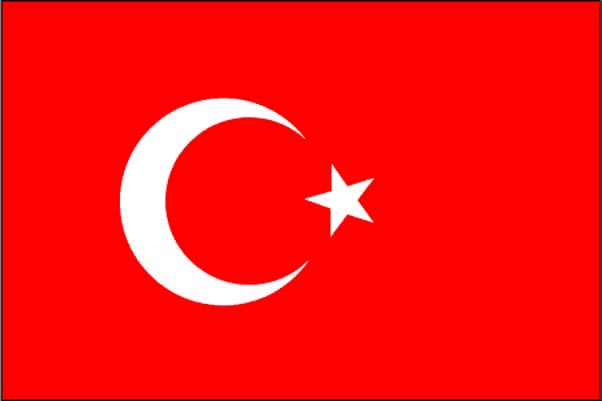 Traversée de la Turquie
Le trajet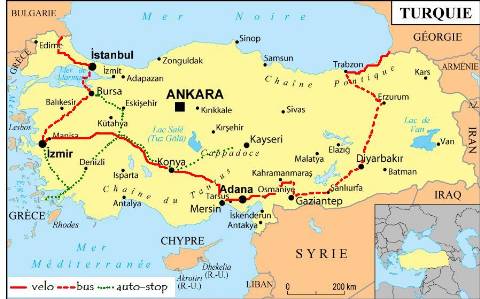 Comme la carte le montre, on a pas mal zigzage en Turquie. Nous avons donc passe deux mois dans Istanbul. Puis, en ferry et en bus, nous avons visite la region de Bursa et environs, en particulier le petit village de Tiriliye ou nous avons passe une semaine. En bus toujours nous avons rejoint Izmir ou nous sommes reste au moins deux semaines. Nous sommes remonte sur Istanbul pour nous marier. Nous quittons definitivement la megalopole et retournons a Tiriliye pour honorer notre promesse et dire en revoir a notre ami.

As you can see in the map, we did some zig zag. We spend 2 months in Istanbul. Then, with the ferryboat, we visited the Bursa area and specially Tiriliye where we spend a week. By bus again, we reached Izmir where we stayed at least two weeks. We went back to Istanbul to get married. Finally we leaved the big city to go back to Tiriliye to say bye tou our friend.

Nos montures etant a Izmir nous planifions un petit circuit en stop. De Tiriliye jusqu'en Cappadoce puis direction Pamukkale et enfin Marmaris et Datcha pour finir par Izmir... histoire de dire en revoir a nos ami(e)s puis de recuperer nos montures pour enfin rouler en Turquie!!

Our bikes parked in Izmir we decided to hitchhick a bit. From Tiriliye to Cappadocia then Pamukkale and finally Marmaris, Datcha and Izmir... in order to say goodbye to our friend and took back our bikes and finally ride in Turkey.

Et nous voila sur la route a nouveau! Nous commencons notre traversee par le centre via Afyon et Konya ou nous nous arreterons un peu. Ensuite nous nous dirigerons tranquillement vers les montagnes du Taurus ou quelques petites grimpettes nous attendent. Une fois franchies, direction la partie Kurde du pays, Diyarbakir. Nous prenderons le bus depuis Karamanmarach pour finir la route.

And we are again on the road! We start our way by the center via Afyon and Konya where we make small breaks. Then we go slowly to the Taurus mountains where we start to climb a bit. When mountains passed, direction kurdish part of Turkey, Diyarbakir. We joined it by bus from Karamanmarach.

Nous resterons a Diyarbakir quelques merveilleuses journees puis prendrons le bus pour Trabzon ou nous roulerons jusqu'a la frontiere Georgienne.

We stay in Diyarbakir for few wonderfull days and take the bus for Trabzon from where we ride our bicycle until the border with Georgia.
Le mental
En 6 mois il a eu le temps de changer!!
Comme d'habitude changer de pays n'a pas ete facile au debut. Surtout que la on arrivait dans un pays ou la culture est tres differente de ceux que l'on a traverse auparavant.
In 6 months it changed a lot!
As usual, arrived in a new country wasn't that easy in the beginning. Morever when the culture is very different than the country we passed trough before.
La joie et l'emmerveillement face a un peuple dont l'hospitalite n'a pas d'egal compare au pays que l'on a pu visiter tous les deux! Simple et naturel, sans rien demander en retour... Juste magnifique! L'emmerveillement devant ces paysages si different, a couper le souffle!
The joy and amazment to see the hospitality! simply amazing. The amazment on the front of those wonderfull and spectacular landscape... Breathtaking!
La tristesse... Nombre de nos frequentations durant nos premiers jours a Istanbul furent des Syriens de nos ages et leurs recits nous ont fortement touche. Obliges de fuirent leur pays, parfois d'y laisser leur famille tout en sachant que lors de leur (problable) retour ils ne reconnaitront certainement pas leur ville et que peut-etre certains membres de leur famille manqueront a l'appel. La question des priorites dans une vie est sans cesse remise en question...
The sadness... Most of our friends when we arrived in Istanbul came from Syria, same ages than us and their narratives have touched us. Obliged to leave their country, sometimes to let their family there knowing that maybe when they will (probably) come back they wont recognize their city and
maybe a member of the family will be missing... The question of priority in life is always questioned.
L'immense bonheur de nous marier a Istanbul et d'etre rejoins par la maman et le frere de Matt!!!
The huge hapiness to get married in Istanbul and to see the brother and the mother of Matt coming!!
La colere aussi parfois de voir comment certains hommes voient la femme europeenne.
the anger as well to discover how the man see european woman sometimes.
Le pays
Pour faire simple je vais diviser ca comme je l'ai fait pour le trajet.
To make it simple, I'll divide into 3 parts as i did for the traject.
Alors pour commencer, Istanbul. Comment en quelques lignes definir cette megalopole de pres de 16 millions d'habitants! L'histoire y est tres riche puisque les civilisations s'y sont succedees. Istanbul est construite sur les ruines de Constantinople (cite Romaine) elle meme construite sur les ruines de Byzance (cite Grecque). C'est une des seules villes au monde a cheval sur deux continents. Les quartiers y sont tres contrastes. Certain tres rudimentaire comme Tarlabasi et d'autres completement huppes comme Nisantasi. Tres difficile de se faire une idee de la ville meme en deux mois. Ca vie a tous les coins de rue et l'aventure et les rencontres se font facilement partout!
Les coins magiques que nous avons adore sont la mosquee Suleymanie, le bazar egyptien et ces petites ruelles pleines de couleurs et de senteurs. le 'passaj' dans Istiklal avenue pour arriver dans cette grande place pour boire le the. Le bazar de Besiktas pour son cote non denature! Les iles aux prince aussi!!! Tres calme et tres typique... Les petits bars caches dans les etages des immeubles comme le "papillon"... Bref que de bon souvenir.
So to start: Istanbul. How can we define this megalopolis of 16 millions people in some words! The history is very rich cause the numbers of the civilisation who pass trough. Istanbul was build on the ruins of Constantinople (Roman city) and Constantinople build on the ruins of Byzance (Greek city). It's one of the only city in the world on two continents. The neighborhood are very different. Some are very rudimentary like Tarlabasi and some totally rich like Nisantasi. Hard to figure out how is the city even after 2 months! It's alive everywhere and there is adventure and encounteers in every street.
The magic spot that we loved was the Suleymanie mosque, the Egyptian Bazar and all those small streets full of colour and smell! The "passaj" in Istiklal avenue to sit and drink a tea in this huge place. The Besiktas Bazar because no tourist there so no denatured. The prince's island as well!!! So calm and typical. The small bar hiding on the big buildings like the "papillon"... Anyway so much good memories!
Pour l'episode de la region de Bursa/Mudaniye nous sommes beaucoup restes dans le petit village de Tiriliye, qui je dois dire apres Istanbul fut tres ressourcant. Des oliviers a perte de vue et une petite vie de village avec ces personnages et ces habitudes que nous avons vite pris.
For the part of Bursa/Mudaniye, we stayed a lot in the small village of Tiriliye, i must say that after Istanbul was replenishing. Olive trees out of sight and a small village way of life with this character and habits that we took quickly!
Izmir, Une ville bien plus calme qu'Istanbul... Les bords de mer y sont paisibles et le style de vie est bien plus cool. Les fruits au marche sont incroyablement peu couteux et la nature est visible et abordable.
Le marche labyrinthe de Kemeralti nous a enchante... Nous avons aussi beaucoup aime cette mosque (Fatih camii je crois) d'un bleu magnifique et surplombant la mer egee.
Le quartier de Buca ou nous avons reside et lui aussi tres charmant, a taille humaine et fonctionne comme un petit village.
Izmir, much more relax than Istanbul... The seaside is very peaceful and the way of life is softer. The fruits in the bazar are incredibly cheap and the nature is noticeable and reachable.
The Labyrinth bazar of Kemeralti delighted us... We loved as well this mosque (Fatih Camii i think) with a wonderfull blue and overlooking the ege see.
The neighborhood of Buca, where we stayed, is very charming... Human size it works like a villages.
Que dire sur la Cappadocce a part repeter ce que tous le monde dis sur le sujet. E-pou-stou-flant!!! On en a eu les larmes aux yeux avec Matoche en arrivant a Goreme. C'est dement, lunaire et rien que d'y repenser ca nous fillent la chaire de poule. J'en rajoute pas il FAUT y aller!
What can we say about Cappadocia apart repeat what everyone say about the topic. Won-der-full!!! We were almost crying with Matoche whenwe arrived in Goreme. It's awesome, lunar and just thinking about it we get the goosebumps! I don't exaggerate, You MUST go there!
Pamukkale aussi nous a beaucoup plu. Bon c'est sur on a vite fait le tour et c'est blinde de touristes mais avec un peu d'imagination on arrive a faire abstraction et profiter de ce beau spectacle que la nature nous offre.
Pamukkale also pleased us. Well sure it's quickly visited and full of tourists but with a bit of imagination we can ignore and enjoy this beautifull show that nature offers us.
Marmaris et Datcha!! Certain poetes de l'antiquite ont dis de ces endroits qu'ils sont un petit avant gout du paradis... On est plutot d'accord, c'est magnifique. Ces enormes oranges, citrons, tomates... et la couleur de l'eau... et la montagne... et le miel. Apparement les gens y vivent tres vieux. Tu m'etonnes!
Marmaris and Datcha!! Some of the poets in the antiquity sayed that those place are a foretast of the paradise... We are agree, it's wonderfull. Huge oranges, lemoin and tomates... and the color of the water... and the moutain around... and the honey. Apparently people live longer there!!
Konya, la Mystique... Cette ville du centre de la Turquie nous a vraiment inspire. Interesses par la mentalite soufie a la base ce fut tres enrichissant. Nous avons pu assiste a un Sema, rituel Mevlana (derviches tourneurs), qui nous a transporte... litteralement
Konya the Mystic... This city in the center of Turkey really inspired us. Already interessed by the soufie philosophie, it was enriching. We've got the opportunity to saw a Sema, rituel Mevlana, which litteraly transport us!!
Notre traversee des montagnes du Taurus n'aura pas ete difficile et meme tres agrable. Les gens y sont formidables (presque tous!!). La faune et la flore impressionantes. Et les montagnes en elle memes merveilleuses.
Our Taurus Mountain crossing was not that hard let say enjoyable even. People there are very nice (almost all of them!!). Fauna and flora was impressive. And the mountain itself, amazing!
Une fois traversees on arrive donc de l'autre cote a Adana... et la c'est le choc! Totalement different. Premierement il fait chaud... Tres chaud et on trouve des cactus, des cameleons, plein plein de tortue! Des oiseaux inconnus au bataillon... enfin bref ca change bien quoi!
After we've crossed those mountain, in the other side it's Adana.... And ther it was a shock! Totally different. Firstly it's hot.... dead hot and you find cactus, cameleon and many many turtles. Birds... we just never heard about most of them... Anyway, everything changed!
Diyarbakir... Enfin en territoire Kurde. Superbe ville est surtout le vieux Diyarbakir au sein de la forteresse. Nous avons adore Hasan Pasa et les sous-terrains!
Diyarbakir... Kurde area, finally we reached it! Amazing city and mostly the Old part of it within the city wall. We loved Hasan Pasa and the undergrounds place!!
Mardin, quelle magnifique ville. Toutes ces anciennes maisons carrees les unes sur les autres au flanc de la colline. Et ces eglises qui cotoient les mosquees depuis des decennies! Les gens aussi, adorables et simples. Et.... Les pigeons Backflippeur. Assez impressionants quant meme ces oisaux qui peuplent toutes les grandes villes du monde ben la bas ils font des Backflip pour une raison qui nous restera mysterieuse. Vous pouvez les voirs dans
cette video
. La vue sur la mesopotamie et le debut de la Syrie y est magnifique... En bref une de nos villes preferee!!! Sans hesitation!
Mardin, what a wonderfull city. All those old square houses one above the other in the mountainside. And those church which rub the mosquee from centuries! People are nice as well, adorable and simple. And... the backflipper pigeon. By the way, so impressive. Those birds are everywhere in the world and only there for an unkown reason they are doing backflip. You can see it well in this video. The view over mesopotamia and Syria is amazing... In brief one of our favorite city!!! Without hesitation!
Pour la fin de notre aventure, Trabzon et Rize... La aussi les temperatures changent et se radoucissent. C'est tres vert et tout autour de nous, les plantation de the que nous buvons depuis a peu pres 6 mois maintenant. C'est tres beau et avons un peu l'impression d'avoir fait un grand bon jusqu'en Inde parfois.
For the end of this Turkish adventure, Trabzon and Rize... There as well, the weather changed quite a lot. It's all green everywhere and all around us the tea plantation that we drink for that last six months now... It's really beautifull and sometimes we have the feeling that we did a big jump to India
Les rencontres
Umut
Journaliste a Babaeski, il souhaite rediger un article sur notre aventure, nous partageons la soiree ensemble a Babaeski avec quelques uns de ses amis.

Journalist in Babaeski, he wanted to made a paper about our trip, we shared the evening together in Babaeski with some friends of him.

Merve
Collegue de Umut, elle partage avec nous le reve de partir un jour a velo avec son mari, c'est elle qui redigera l'article. Elle est douce et tres gentille!

Umut's colleague, she share the dream with us to leave on a journey by bike with her husband, She did the paper. Very sweet and kind!

La bande de Luleburgaz; Yusuf, Yilmaz, Yalcin et Rahmon
4 quarantenaires amis d'enfance qui nous acceuillent comme des rois a Luleburgaz ou nous arrivons un jour de deluge. Un orage sans fin a en inonder les rues de la ville. On passe une magnifique soiree d'echange en leur compagnie, ils nous trouvent refuge dans l'hotel de la municipalite et nous amenent un delicieux petit dejeuner au petit matin, borek et baklavas fait maison (merci a la femme de Yusuf) de quoi faire le plein d'energie avant notre depart! Une rencontre qui nous touche beaucoup!

4 quarantines , childhood friends who welcomed us as king in Lulueburgaz where we arrived in a downpour day. A endless storm which floods the city. We got a magic evening of sharing with them, they find us an hotel and on the morning bringed us an amazing breakfast... homemade borek and baklavas (thanks the Yusuf's wife). An encounteers that we wont forget!

Raeed, Jwan et Dolovan
3 jeunes Syriens que nous rencontrons a Istanbul. On ne peut rester indifferents face a leurs recits, les mots manquent pour exprimer ce que l'on ressent...

3 Syrian of our ages that we met in Istanbul. We cannot expplain what we felt when they told us what happend in their country. Words are missing

Vincent, Gizem et Camille
Nos collocs a Istanbul qui ont bien voulu nous accueillir pendant 2 mois dans leur appartement a Besiktas. Soirees bien arrosees au Pixie, instants cuisine bien inspires ou on formait une equipe parfaite, parties de tarot endiablees, echange de cours de turque/francais, soirees de noel et nouvel an particulieres et donc inoubliables, lancement de petites productions artisanales (confitures pour notre plus grand plaisir et limoncello d'une facilite deconcertante...),notre mariage ou Gizem nous a assiste dans toutes nos demarches administratives, sans elle rien n'aurait ete possible, merci encore a toi, improvisation d'une semaine en autostop... Merveilleux moments passes ensemble, merci a tous les 3!

Our flatemate in Istanbul who host us for 2 months in besiktas. Amazingt party in the Pixie, cooking session (we was an amazing and well organized team), Tarot game untill late in the night, Turc/French lesson, Christmas and new years eve original and unforgetable, starting of small craft production (Jam and Limoncello...). Our weddings, Gizem helped us for the administratives issuses, without her... nothing was possible, again thank you so much banana. Hitchhikink improvisation for a week.... Wonderfull souvenirs with you guys... Thanks again!!

Les rencontres d'Istanbul: Matthieu, Lulu, Omer, Murat, Xavier, Ece, Amro, Ellen, et tous les autres
Repas partages, discussions autour d'un verre, pic-nique dans les parcs d'Istanbul, visite des iles du prince, et tellement d'autres moments partages!

Meat, discussions, pic-nic, visit.... so many good times together!

Notre cher Musti
Il nous acceuille chez lui a Tirilyie quelques semaines, nous fait partager son quotidien, on se sent chez lui comme chez nous et reviendrons le voir une deuxieme fois apres notre mariage. Sa guitare lui colle a la peau et on apprendra avec lui quelques chansons d'artistes turques. On se regale avec du poisson accompagne de raki et quelques parties de batak ou "uch, bech, sekis", un homme gentil comme tout avec son caractere qui lui va bien.

He welcomed us in his flat in Tiriliye for couple of week, share his everyday. We felt like at home and we came back in his home after the wedding. Always with his guitare, we learned with him some turkish song. We loved the fish, raki and some batak or "uch,beck,sekis" game. An humanist with his funny character ...

Melek abla, sabli abi et leur fille Nejla
Des membres de la famille de Musti a Tirilyie qui nous acceuillent les bras ouverts, d'une grande gentillesse!

Members of the Musti's family who welcomed us very well, big heart people!

Goltuk, Karem, Hassan, Wedat, Mehmet et bien d'autres
Les habitants de Tirilyie que l'on croise chaque jour au village.

the people of Tiriliye that we cross everyday in the village. Easy to feel like members of them

Mustafa, Pelsin, Berat, Sulo, Sultan
La bande d'Izmir qui nous acceuillent comme de vieux amis, ils nous font decouvrir la ville, organisent nos fiancailles dans les traditions turques, des souvenirs graves a jamais dans nos coeurs et une amitie forte qui s'est creee.

The Izmir crew who welcomed us as old friends. They made us discover the city, organized our engagement in the traditional kurdish way. Souvenirs which will be in our heart for ever and a strong friendship started with them.

Pascal ou "Petit B"
Cyclorando suisse heberge par Mustafa, Pelsin et Berat au meme moment que nous, le courant passe super bien. On passe quelques jours a Izmir ensemble avant qu'il ne reprenne la route. On reste en contact depuis ce temps, Pascal nous precede de quelques centaines de km et nous file toutes les infos pour les passages frontieres, les bonnes adresses et les bons plans. Un grand merci a toi, tes conseils nous sont tres precieux!

Cyclotraveller swiss hosting by Mustafa, Pelsin and Berat in the same time than us. We directly feel good with him. We spend some times with him in Izmir before he leaved. We stay in touch with him and he's sendind a lot of usefull tips for the boarder crossing, the good adress etc... Big thanks to you. Your tips are precious for us!

Gulcan abla, Arab Mustafa abi, Emel, Azal et Ezgi
La tante, l'oncle et les cousines de Berat et Pelsin. Une famille en or qui nous inviteront plusieurs fois pour le repas. Gulcan abla a le don de lire l'avenir dans le marc de cafe, c'est incroyable tout ce qu'elle a pu voir, pas de frayeur y'a que du positif pour le reste du voyage et la route sera longue!

The aunt, the uncle and cousine of Berat and Pelsin. A golden family who invited us many times to share huge meal. Gulcan abla know how to read the future in the coffee. Incredible what she dayed about us, no fright, only positif for the rest of the travel, road will be long!

Sado, Beytullah, Ekrem, Tolga, Erdem et tous les autres qui nous ont fait avancer en autostop
L'autostop en Turquie c'est une aventure a ne pas manquer. Bains souffres a 2h du matin, visite du musee des Mevlana offerte, nuit dans une mosquee, trajet offert en autobus, restaurant....et j'en passe, sans oublier bien sur un temps offert pour discuter et echanger sur nos vies, nos cultures, superbe initiative que nous sommes ravis d'avoir pris!

Hitchhicking in Turkey is an unmissable adventure. Hammam at 2 o'clook in the morning, Mevlana museum for free, night in a n empty mosquee, traject by bus for free, restaurant... and so many other thing. A lot of time as well to share about our life, our culture...Nice initiative that we are happy to took...

Telhat, Akan, Husseyin, Ismael, Semi et Bozan et tout le personnel des nombreuses stations essence ou l'on s'est arrete
Toujours tres acceuillants et genereux, un the, un repas, un endroit pour la tente, une douche, un lit, un abris contre la pluie ou le vent, ils ont ete nos anges gardiens sur les routes de Turquie, merci a vous tous.

Always very welcomed and generous, a tea, a meal, a place to set the tent, a shower, a bed, they was our guardian angel on the Turhish road... Many thanks to all of you guys!!

Aydogan
Le tenancier d'un resto de Pide ou l'on s'est arrete pour manger un bout, il nous emmene visiter sa ville,Aksehir, nous compte son histoire, nous raconte sa vie puis finit par nous payer notre repas!

The owner of a Pide restaurant where we stopped to eat. He bringed us in his city, Aksehir, made us visiting, told us his life and at the end offer us the meal!!

L'equipe du resto bateau
On s'y arrete pour se proteger du vent qui soufflait incroyablement fort face a nous ce jour la, l'equipe est adorable, on se sent vraiment bien parmi eux, l'ambiance est sereine. Apres une seance photo avec chaque membre on repart avec 4 pains tout juste sortis du four!

We stopped there because an amazing and strong wind on our face, the team is adorable and we felt incredibly good with them. The atmosphere is cool and calm. After a picture session with each of them we went back on the road with 4 delicious breag freshly coming from the oven!

Husseyin et son papa Behcet
Ils nous acceuillent a Konya par le biais de Warmshowers, Behcet est un prof d'histoire a la retraite, il a pris le pli d'acceuillir des voyageurs par le biais des sites couchsurfing et warmshowers et s'avere etre vraiment tres acceuillant, on se sent comme a la maison. Husseyin est prof de theatre et reve de devenir realisateur pour le cinema, il est tres ouvert d'esprit et d'une grande gentillesse.

They hosted us in Konya via warmshowers, Behcet is a retired history teacher, he loved hosting guest, we felt at home in his place. Husseyin in a theater teacher and aim to become realisator for cinema, very open minded and really kind.

Savas, Ersen, Duygu, Cafer et leurs amis
Ce sont les etudiants d'Husseyin chez qui l'ont est "transfere" a Konya, leurs amis sont pour la plupart etudiants au conservatoire et jouent donc tous tres bien d'un instrument au moins, belle soiree au programme avec instruments traditionnels et chants. Un echange tres enrichissants avec ces jeunes qui aiment beaucoup ce a quoi ils se destinent.

Husseyin student in Konya. Them friends, for most of them, are student in the conservatory and so play traditional instruments very well. So nice party with them. Very interesting exchange with those young people who love a lot what they are doing.

Le personnel d'Arpi
Arpi est une chocolaterie qui se trouvait sur notre route, on s'est dit: pourquoi pas aller visiter l'interieur si on nous l'autorise...on a pas pu visiter mais on est reparti avec 3 bon kilos de chocolats et caramels! De quoi faire le plein d'energie!

Arpi is a chocolate company on our way. We said why not visiting their industrie if they allow us. They don't but they gave us at least 3 kilos of chocolate candies!!

La famille de la maison bleue
Le papa nous appelle pour boire le the, on accepte l'invitation puis on finit a l'interieur a partager le dejeuner avec les enfants et petits enfants qui ont rappliques! moment simple et genereux comme on les aime.

the father called us to drink a tea, we accepted and finally we've got a huge breakfast with all the family.
La bande de filous des Taurus
On s'arrete suite a l'invitation du papa pour un the. Il gere un petit resto boucherie en bord de route avec son jeune fils, ils sont tres sympathiques et tres calmes, un calme tres reposant. Le pere nous invite a rester pour la nuit, il a une petite case avec 2 lits superposes, on se laisse tenter! On passe une soiree de dingue avec un bon repas, viande d'agneau, crudites, raki, fruits et toujours quelqu'un pour nous tenir compagnie. Toute la soiree on demande combien on leur doit pour tout ce qui nous est offert mais on nous repond toujours que nous sommes des invites, on ne doit pas parler d'argent...rien de tres etonnant en Turquie...Le lendemain c'est pareil, le bon gros kavalti avec tomates, concombres, olives, viande, fromage, pain, the. Le papa offre meme son pantalon traditionnel a Matthieu. Puis au moment de partir l'employe nous rejoint dans la case avec le livre qui contient la note, un petit bout de papier ou est inscrit dessus "250 euros", Ah la bonne blague! Apres une bonne heure de negociation on arrive a faire baisser la note a 35 euros ce que l'on juge tout a fait raisonnable pour cette soiree mais on repartira quand meme avec un gout amer, cette sensation d'avoir fait une rencontre aux intentions bien definies!

We stopped there to drink a tea. The father rules a restaurant/butchery in the side of the road with his young son. Very nice and calm people. The father invite us to stay in a small bungalow fort the night. Amazing evening with delicious food (lambs!!!) and everything... All night blong we sak for the prices of this and that. They said that we are guest, we don't have to speak a bout that. It's like this in Turkey... The morning after, same thing, huge breakfast. The father even gave his traditional pants to Matthieu. And then just before to leave we see a guys coming with the small book wihch normally contain a bill... Inside a small paper whith 250 euros writing on it. Nice joke... no seriously!! After an hour of bargaining the bill turned to 35 euros. Finally it's a good price for what we've got. But we took the road with an amer taste!!

Le patron concessionnaire de 2 roues
A la recherche d'un nouveau pneu pour Matthieu, on s'arrete tout a fait par hasard chez ce concessionnaire sans grand espoir puisqu'il n'y a pratiquement que des motos. Le patron vient a notre rencontre et nous offre un pneu tout neuf, qui pour l'instant fait bien ses preuves! Merci!

We was looking for a new tire for Matthieu, we stopped randomly in a motorcycle dealer. The boss came and gave us one good tire for free. Thanks a lot to him!!

La famille d'Azizli et son voisinage
On s'arrete en fin d'apres midi dans ce petit village en flanc de montagne, il ne faut pas longtemps pour que la moitie des enfants du village viennent a notre rencontre. L'un d'entre eux nous enmenne chez ses parents ou nous sommes tres bien acceuillis. On cuisine du poisson puis passons la soiree a la maison ou tout le voisinage vient a la rencontre de ces 2 "touristes" venus a Azizli. Quelques jeunes filles parlent un bon anglais, ce qui nous permet de bien echanger. Seance photo et bonne partie de rigolade au programme. On dormira dans le lit des parents sans pouvoir refuser. La grand mere nous prepare un bon dejeuner avant notre depart. Superbe rencontre.

We stop there in the end of the day. A small village in the mountain side. We don't have to wait so long untill half of the village children came to see us. One of them bring us to his parents where we'll be well hosted. We cooked fish end spend the evening there with all the neighbor. They came to see THE tourists who came in their village.... It seems to be not that ofen. Some of the little girls speak english so we can share. Pictures session and lot of laugh in the program. we slept in the parents bed. The frand mother prepared us a nice breakfast before we leave. Wondefull encounter!

Les gendarmes de Pazarcik
Ils nous sortent d'une bonne galere et nous trouvent une chambre dans un hotel pour professeurs au centre de la ville au frais du capitaine. On a meme la chance de pouvoir regarder le match que tout le monde attendait: Galatasaray - Real de Madrid.

They helped us a lot for an issue and find for us an hotel for fre where we watched the match: Galatasaray - Real Madrid

Notre famille kurde d'adoption
A Diyarbakir nous attendait le reste de la famille de Pelsin et Berat (rencontres a Izmir): La maman, Saadet abla, le papa, Hamdi abi et les freres, Firat et Murat. On passe une semaine completement integres dans cette famille comme si on en etait membres. Ils nous enmenent visiter la ville, on va pic-niquer au parc, on va rendre visite a la famille et aux amis (on rencontre ainsi la premiere fille de la famille Selvi et son mari Cihan, les soeurs de Saadet abla: Saliha, Remziye et aziz et leur enfants Sedef, Sude et le petit Enes, Nouriye la cousine de Saadet abla son mari et ses enfants) a chaque fois autour d'un bon repas. Saadet abla est tres heureuse de participer a notre collecte de recettes du monde, on cuisine donc beaucoup ensemble. On promets de se revoir un jour, on viendra leur presenter nos enfants apres le voyage ;) Un enorme merci pour votre acceuil et votre generosite!

In Diyarbakir the Berat and Pelsin family is waiting for us: The mother, Saadet abla, the father Hamdi abi and the two brothers Firat and Murat. We spend a week there and we was integrated as a members of it. They bring us to visit the city, we made a nice BBQ in the Newroz Park and we spend a lot of time with the family: The first daugther of the family, Selvi and her husband Cihan, the sisters of Saadet abla (Aliha, Remziye Aziz and their children Sedef Sude and Enes), Nouriye the cousine of Saadet abla her childern and her husband. Each time we shared a huge meal with all of them. Saadet abla gave us a lot of new receipe and she is very happy to do it. We promises to come back to see them one day. Huge thanks everybody for you amazing welcoming and your generosity!!

Jonathan et Manuella
2 cyclorandos autrichiens que l'on rencontre pres de Trabzon, le courant passe tres bien on decide donc de faire un bout de route ensemble. On ira jusqu'a Tbilisi, capitale de la Georgie, ensemble. Supers moments partages! Bonne route a vous!

2 Austrian Cycletravellers that we met near Trabzon, very good feeling directly and same rythm.... so we decied to ride together for a while. We reached Tbilisi together, capital of Georgia. Very great times shared! Good road to you both!!
Tourisme
Bon on en a deja dis beaucoup dans le pays alors je vais etre bref:

We already said a lot so i'll try to be brief:
La grande et surprenante Istanbul ou tout reste toujours a decouvrir!
The big and surprising Istanbul where everywhere is adventure!
Bursa et ces environs, les olives et produits derives y sont delicieux
Bursa and around, olives trees and the products from it... delicious
Izmir la cool! Est surtout le bazar de Kemeralti
Izmir the cool! And mainly the Kemeralti bazar
Konya pour son cote mystique et ennivrant et surtout pour assister a un Sema
Konya for its Mystic side and mainly to see a Sema
Bien sur un trekk en Cappadoce semble etre un incontournable
Of course dont miss to trek in Cappadocia. It's a must!
Faire un petit tour a Pamukkale c'est cool aussi
late coHave a walk in Pamukkale, it's nice as well
Rester aussi longtemps que possible a Marmaris et Datcha... Ca vaut vraiment le coup!
Stay the longer that you can in Marmaris and Datcha... It's really worth it!
Diyarbakir a aussi beaucoup a offrir et surtout la vieille ville. Les filles couvrez vous qand meme ya des mains qui se balladent la ou elles devraient pas des fois!!
Diyarbakir have as well a lot to offer and mainly the old city. Girls please cover yourself cause sometimes man's hand goes where they shouldn't!!
Mardin! Une ville fabuleuse... et les mots me manquent tellement pour la decrire!
Mardin! A wonderfull city... No words to describe it... Just go!

En Turquie tu trouveras
Une hospitabilte naturel et incomparable
An hositality incomparable and natural
DU THE!!! tous le temps et partout
TEA!! everytime and everywhere
Des baklavas pour le plus grand plaisir des gourmands. Mmmhhh!!
Baklavas for the pleasure of greedy people. Mmmhh!!
Une cuisine delicieuse... Borek, Manti, Doner, Pide, Lamahcun
A famous cook... Borek, Manti, Doner, Pide, Lamahcun
De la viande d'agneaux a gogo et pas cher du tout
Lambs meat everywhere and so cheap (Dediccace to Flo!!)
Bien sur des Mosquees plus ravissantes les unes que les autres
Of course mosquee everywhere so different kind of and beautiful
La priere 5 fois par jour. C'est bien aussi quand on a pas de montre pour savoir quelle heure il est a peu pres! Et c'est toujours un bon moment que de l'ecouter. (enfin ca depend de l'Imam)
The prayer 5 times a day. When you don't have any watch it's nice to figure out what time is it... And it's always a pleasure to listen it.(depending to the Imam sometimes)
Des chiens et chats errants un peu partout
Wild cats and dogs almost everywhere
Des dolmuch... Petit van taxi qui attend d'etre plein pour partir!
Dolmush... Small van taxi which wait to be full in order to go!
Du cafe Turc bien sur!!
Turkish coffee everywhere of course
A velo
Comme prevus Istanbul fut plutot un enfer. Le traffic est intense et les denivele parfois hallucinants donc conseil pour les cyclo-rando, arrivez par le nord et suivez tranquilement le Bosphore. Ca vous evitera des traverser de voie rapide plutot tres dangereuse...
As expected, Istanbul was a nightmare by bike. Traffic was very intense and the altitude sometimes incredible so advice for the next people who want to cross it by bike: Come from the north and follow easily the Bosphorus. You'll avoid highway and some dangerous road...
La plupart des conducteurs klaxonnent et disent coucou. C'est sympa et tout mais quand ce sont des camions (Matt a les oreilles fragiles) Ca surprend et ca fait mal!
Most of the driver honk and say hello on the road. It's nice and everything but when you got sensitive ears (like Matt) it could be annoying!
Sur les grands axes, il y a tres souvent une bande de 1,50 ou 2 m pour pouvoir rouler "tranquille".
In the big road, there is ofently a !,50m or 2m path where you can ride "easily".
La carte que l'on utilisait n'etait pas vraiment au top donc on a souvent pris des grands axes mais apparement avec un systeme de navigation, il y a possibilite de se faire plaisir.
The map that we got wasn't that good so basicly what we did was mostly using the big roads. Apparently with a GPS there is much more options.
La ville de Konya est par exellence la meilleur pour les cyclos... C'est simple y a des pistes cyclables partout et c'est plat!! C'est pas vraiment le cas dans le reste de la Turquie ou les pistes cyclables sont peu nombreuse voir inexistante.
The city of Konya is the best for cyclist. Cycling path everywhere and it's flat. It's not really the case in the rest of Turkey where the cycling path are rare even quasi nonexistent.
Il y a par contre un bon nombre de reparateur plus ou moins efficace mais toujours pret a filer un coup de main.
In an other hand there is many cycling shop more or less efficient and always ready to help.
Les stats
172 jours dont 137 de repos donc seulement 35 jours pedales
1792 kms soit 51km/jour
1 euro = 2 TL
budget alimentaire 986,00 euros, soit 5,52 euros/jour
budget hébergement 237 euros soit 1,3 euros/jour
budget extras 552,8 euros soit 3,21 euros/jour
budget vélos 127,5 euros soit 0,74 euro/jour
budget équipement 275 euros 1,6 euros/jour
budget transport 363 euros 2,1 euros/jour
budget administratif (mariage et droit de residence) 537 euros
soit un total de 3080 euros soit 17,9 euros/jour
172 days, 137 off so only 35 days cycling
1792 kms so 51 km/day
Food: 986,00 euros so 5,52euros/day
Accomodation: 237 euros so 1,3 euros/day
Extra: 552,8 euros so 3,21/day
Bike: 127,5 euros so 1,6 euros/day
Equipement: 275 euros so 1,6 euros/day
Transportation 363 euros so 2,1 euros/day
Administration (wedding and residence permit) 537 euros
So a total of 3080 euros, 17,9 euros/day